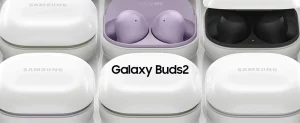 Immerse yourself
into your own world
Get lost in what you love. Galaxy Buds2 opens a new world of audio experience with well-balanced sound, unmatched comfort fit, ANC, and seamless connectivity to your phone and watch. Easier controls and better feedback keep you immersed when working out, gaming, or jamming to your beats.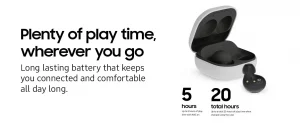 WELL-BALANCED SOUND
Your world the way
it's meant to be heard
A woman is wearing olive color Galaxy Buds2 in her ear while riding a skateboard down an asphalt street. She is spreading her arms out and enjoying the ride. A man is in the background, also riding a skateboard by sitting on it.
Enjoy powerful, deep bass to clear treble through
two-way dynamic speakers. The Galaxy Buds2 gives you well-balanced sound quality that enriches every moment of your audio journey. Hear like you're there.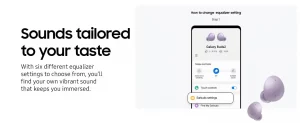 CRYSTAL-CLEAR CALLS
Leave noise out
of the conversation
Three microphones and a built-in voice pickup unit help you make clearer calls, while a machine-learning based solution filters unwanted sound so you can better share your world with family and friends. The low protrusion design minimizes wind disruptions to make your outdoors calls come in clear.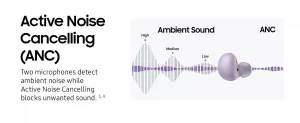 ACTIVE NOISE CANCELING
Choose the sound
you want to hear
Two microphones detect ambient noise while Active Noise Canceling blocks unwanted sound. Background noise can be reduced up to 98% to keep you fully immersed in your music, games, audio books, and your favorite podcasts. 3, 4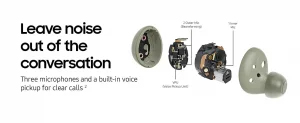 COMFORT FIT
The lightest earbuds
we've ever made
Galaxy Buds2 is lightweight (5g each) and keeps music snug in your ears for even the most active lifestyles. With three sizes of soft, flexible silicon tips you can find a custom fit to get the best ANC experience possible. Find your fit with the "Earbud fit test" menu in the Galaxy Wearable app.