With these Anker Soundcore Earbuds, you can start and end your day on a musical note. They ensure clear sound quality as they remove background noise and elevate voice pick-up. With Bluetooth 5.0, you can enjoy a strong and unbreakable connection between your mobile phone (or other devices) and these earbuds for disturbance-free listening. These earbuds have an IPX7 rating that ensures protection against rain, sweat, and more so that you can use them without worry.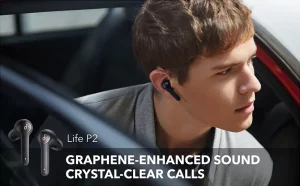 Accurate Sound
These earbuds have graphene drivers that ensure precise oscillation so that you can enjoy the accurate sound for an immersive experience every time you plug them in.
Clear Call Quality
These earbuds utilize the cVc noise reduction technology and 4 microphones to ensure that background noises are removed and voice pick-up is enhanced so that you can enjoy talking to your loved ones without any disturbances.

Non-stop Music
On a single charge, you can enjoy up to 7 hours of music playback with these earbuds. You can even extend it up to 40 hours with its compact charging case. Even when you can't spend too much time charging the earbuds, you can enjoy music for up to 1 hour with just 10 minutes of charging time.
Bluetooth 5.0
You can get a strong and unbreakable connection between your mobile phone and your earbuds, thanks to Bluetooth 5.0. This way, you can listen to music without losing connection even in busy spaces.

Secure Fit
These earbuds fit well in your ears. This way, you can enjoy clear calls and music without having to constantly adjust them in your ears.
IPX7
With an IPX7 rating, these earbuds stay protected against water, sweat, and rain. This gives you convenient and comfortable usage.