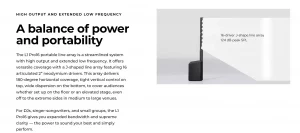 L1 PRO16 PORTABLE LINE ARRAY SYSTEM
YOU FOUND THE SWEET SPOT. HIGH OUTPUT AND EXTENDED LOW-FREQUENCY
A balance of power and portability
The L1 Pro16 portable line array is a streamlined system with high output and extended low frequency. It offers versatile coverage with a J-shaped line array featuring 16 articulated 2" neodymium drivers. This array delivers 180-degree horizontal coverage, tight vertical control on top, and wide dispersion on the bottom to cover audiences whether set up on the floor or an elevated stage, even off to the extreme sides in medium- to large venues.
For DJs, singer-songwriters, and small groups, the L1 Pro16 gives you expanded bandwidth and supreme clarity—the power to sound your best and simply perform.

RACETRACK WOOFER
Bass without the bulk
An integrated subwoofer with a unique RaceTrack driver design gives you powerful bass, has an optimized center of gravity, and saves a lot of space. This slim 10"x 18" neodymium driver gives you performance that rivals a conventional 15" woofer without the cumbersome size, freeing up room in your vehicle and on the stage and making every carry-in between—home to car, vehicle to venue—much easier.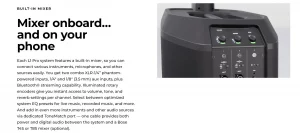 BUILT-IN MIXER
Mixer onboard… and on your phone
Each L1 Pro system features a built-in mixer, so you can connect various instruments, microphones, and other sources easily. You get two combo XLR-1/4" phantom-powered inputs, 1/4″ and 1/8″ (3.5 mm) aux inputs, plus Bluetooth® streaming capability. Illuminated rotary encoders give you instant access to volume, tone, and reverb settings per channel. Select between optimized system EQ presets for live music, recorded music, and more. And add in even more instruments and other audio sources via a dedicated ToneMatch port — one cable provides both power and digital audio between the system and a Bose T4S or T8S mixer (optional).
And with the intuitive L1 Mix app, you get complete wireless mixer control too…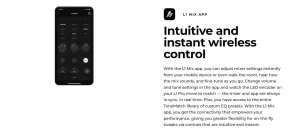 L1 MIX APP
Intuitive and instant wireless control
With the L1 Mix app, you can adjust mixer settings instantly from your mobile device or even walk the room, hear how the mix sounds, and fine-tune as you go. Change volume and tone settings in the app and watch the LED encoder on your L1 Pro move to match—the mixer and app are always in sync, in real-time. Plus, you have access to the entire ToneMatch library of custom EQ presets. With the L1 Mix app, you get the connectivity that empowers your performance, giving you greater flexibility for on-the-fly tweaks via controls that are intuitive and instant.
Download the App from the App Store or Google Play
Premium sound on stage. Practical portability everywhere else. With an L1 Pro16, you can get from parking to performing with ease and from setup to setlist in minutes.
The L1 Pro16 gives singer-songwriters and DJs both setup simplicity and supreme clarity—the power to sound your best and simply perform.