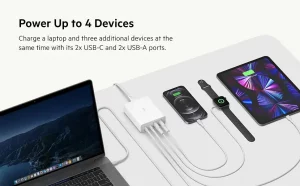 GaN charging technology.
Features integrated GaN technology for a safe and efficient high-wattage charging experience. 108W of combined power to charge up to 4 compatible devices through its 2x USB-C and 2x USB-A ports.
A fast charge x2.
Access up to 96W of power to charge a MacBook Pro from 0-50% in 39 mins* with one USB-C port is in use.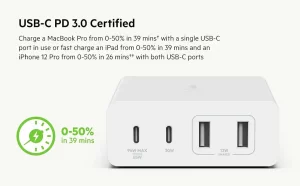 When both USB-C ports are in use, fast charge an iPad from 0-50% in 39 mins and an iPhone 12 Pro from 0-50% in 26 mins†.
Easy access to ports.
Say goodbye to hard-to-reach outlets and clumsy cable extensions. Our charger sits on top of a desk or nightstand and comes with a 2m / 6.6-foot power cord so you can place it directly where you need it.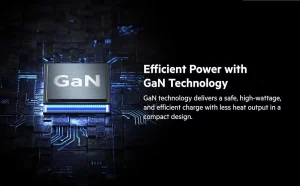 Charges all types of devices.
Charge a wide range of laptops, tablets, smartphones, and more including MacBook, Chromebook, other USB-C laptops, iPhone, iPad, Samsung smartphones, Apple Watch, and other compatible devices.
4 Devices, 1 Charger
Our 4-port GaN charger gives you a maximum of 108W power to efficiently charge a laptop and up to three additional devices at the same time. Featuring Intelligent Power Sharing technology that allows it to recognize power needs and distribute output to up to 4 connected devices.