ONLY MUSIC. NOTHING ELSE.
It's just you and your music with the WH-1000XM4 headphones. The easy way to enjoy less noise and even purer sound, with smart listening technology that automatically personalises your experience.

Be at one with your music
Discover how the WH-1000XM4 headphones blend our most advanced noise cancelling with exceptional sound quality and a range of smart features for an unrivalled listening experience.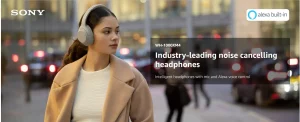 Industry-leading noise cancellation
Whether you're flying long haul or relaxing in a café, the WH-1000XM4 headphones deliver our best ever noise-cancelling performance, keeping out even more high- and mid-frequency sounds.

The technology that makes it happen
Dual noise sensor technology, featuring two microphones on each earcup, captures ambient noise and passes the data to the HD Noise Cancelling Processor QN1. Using a new algorithm, the HD Noise Cancelling Processor QN1 then applies noise-cancelling processing in real time to a range of acoustic environments. Working together with a new Bluetooth® Audio SoC (System on Chip), it senses and adjusts to music and noise signals, as well as acoustic characteristics between the driver unit and ears, at over 700 times per second.

Ambient Sound Control
Adjust ambient sound with the Sony | Headphones Connect app to cancel noise while still allowing essential sounds, like transport announcements, through when you're listening on the move.