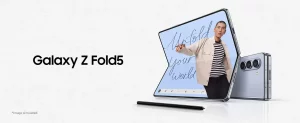 Enjoy seamless connectivity and uninterrupted streaming on this foldable, light and compact Samsung Galaxy Z Fold5 smartphone. Turn your phone into a mobile studio with the 30x Space and show your subjects what they see with the Dual Preview Mode. With a massive screen display of 19 cm, this phone offers a cinematic experience. You can do hassle free multitasking as the phone allows you to keep three windows at once and the taskbar can hold up to twelve apps for a smooth navigation. Elevate your performance with the Snapdragon 8 Gen 2 processor available in this smartphone. This phone is built with a top of the line water resistant material. Powered by a 4400 mAh dual battery, this phone supports endless music for up to 73 hours straight. Control many screens at once with the Multi Control feature.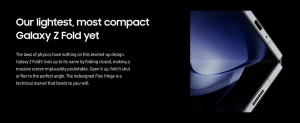 Light and Compact
As the name suggests, this phone can easily be folded with its levelled up design. It is indeed hard to believe that a massive screen can be folded implausibly. You can open, close, shut or flex in different ways and to the perfect angle. The redesigned Flex Hinge lets you open and close the phone without any difficulty.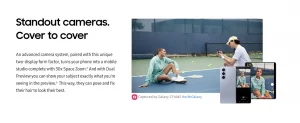 Advanced Standout Camera
Designed with the advanced camera structure and coupled with the unique two-display factor, your phone is turned into a mobile studio with 30x Space Zoom. You can show your subjects exactly what you are viewing in the preview with the Dual Preview, so your subjects can quickly fix their hair and pose their best.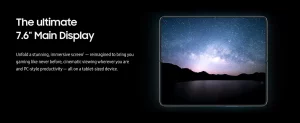 Massive Screen Display
This phone has a large screen size of 19 cm that provides you an immersive viewing experience. With such a big screen, you can play endless games and also elevate your cinematic experience. With Galaxy Z Fold 5, you can witness the productivity of a PC on a tablet-sized smartphone.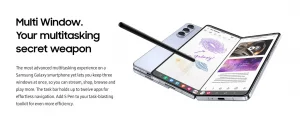 Effortless Multitasking
The multi window on this phone lets you keep three windows at the same time which allows you to browse, stream, shop, play or more. The taskbar on this phone can hold up to twelve apps to navigate seamlessly. You can also Add SPen to your task-blasting toolkit and improve its efficiency.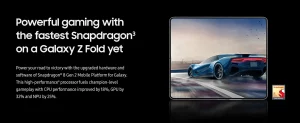 Powerful Snapdragon Processor
The Snapdragon 8 Gen 2 processor on this phone with its upgraded hardware and software simply boosts your performance. You can play games like a champion and still experience no delay. The performance of the CPU is improved by 18%, GPU by 32%, and NPU by 25%.
Sturdy Built
The phone's body is built with armour aluminium that protects the framework from damage. Also, the dual rail Flex Hinge offers a robust and durable fold, so you can open and close your phone any number of times. This phone is also sealed tight with high-quality water resistant material.
Enormous Battery Capacity
Built with an immense 4400 mAh dual battery system, you can listen to endless music for up to 73 hours straight, or watch your favourite shows for up to 21 hours. You can make one charge last for a long time by pairing it up with an advanced processor as the device gets adjusted to the power usage based on your needs and habits.
Multi Control Screens
With the Multi Control feature, you can now control many screens at the same time. This lets you enjoy seamless collaboration. With Multi Control you can easily use a mouse or a keyboard on Galaxy Z Fold5 and Galaxy Tab S9 that offers quick copy and paste or drag and drop possibilities. You can improve your portable workspace by using this tablet that can even double as a second screen and work efficiently.
Transfer Securely
You can securely transfer all your important documents and data including your photos, apps, messages and other media files when you switch to this Galaxy Z Fold5 smartphone.