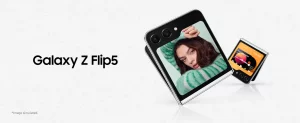 Get to explore a range of new features on this Samsung Galaxy Z Flip5 smartphone. This phone boasts an expandable 8.6 cm large cover screen and has a redesigned Flex Hinge for ease of fold. This phone supports sustainability by taking up recycling measures. Take breathtaking selfies even when your phone is closed by launching the camera app with the Flex Window shortcut. Connect to your Galaxy Watch6 and take large zoomed-in selfies. The Flex Windows can be customised so you can change wallpapers, widgets, clock faces, videos, styles, and more. You can easily transfer your data from your old phone to this new Galaxy Z Flip5 smartphone safely and securely. Connect your phone to Galaxy Watch6 and continue your fitness routine as it keeps tabs of all your activities. Your phone's privacy is enhanced with Samsung Knox.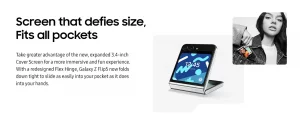 Compact Size to Fit All Pockets
Get jubilant with this impressive Galaxy Z Flip5 smartphone from Samsung that comes with an expandable 8.6 cm cover screen, offering you an immersive experience. The redesigned Flex Hinge folds tight easily and can slide into your pocket effortlessly.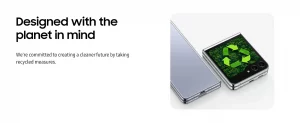 Eco-friendly and Sustainable
You do not have to worry about the scraps once you discard your phone after using it enough. Designed to support sustainability, this phone is committed to contributing a cleaner future by taking recycled measures.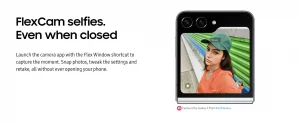 FlexCam Selfies on Closed Phone
Get excited to take selfies and pictures even when your phone is closed. You can launch the camera app with the FLex Window shortcut on your Samsung Galaxy Z Flip5. Capture your moments to memories anytime, anywhere without having to open your phone and also tweak the settings and retakes.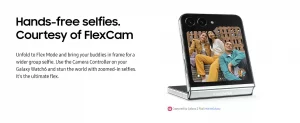 Hands-free Selfies With FlexCam
Take a large group selfie with the Flex Mode and bring all your buddies in a single frame. You can even use the Camera Controller from your Galaxy Watch6 to take a zoomed-in selfie.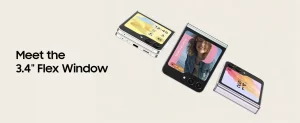 Large Flex Window
This Galaxy Z Flip5 boasts a large cover screen of 8.6 cm Flex Window and mesmerises the onlookers around. This phone is closely-packed and is eye-catchy from every angle. The foldable design of this phone makes it all the more impressive, versatile and portable.
Customisable FLex Window
The Flex Windows are designed such that they can be customised as desired so you can take control of the applications on your device. You can customise with a range of widgets, wallpapers, videos, styles, clock faces, and more.
Switch Smart
Smartly connect your data from your old device to this new Galaxy Z Flip5 and have all your information transferred to this device safely and securely.
Stay Fit with Galaxy Z Flip5
Let nothing get in the way of your fitness journey by linking this Galaxy Z Flip5 mobile device to a Galaxy Watch6 smartwatch as it keeps tabs on all your fitness activities. Learn everything about your workout and monitor your progress easily. By using the Camera Controller, you won't even have the need for a mirror, you can simply watch yourself improve every day with these gym selfies.
Secure Privacy with Knox
Privacy is very essential and you can secure your important information with the Samsung Knox. Share all that you want and protect your privacy. improved power efficiency8.