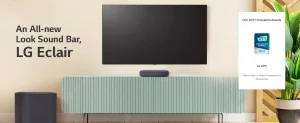 You can enjoy an engrossing aural experience while watching your favorite movies and listening to your playlist with the LG Eclair QP5 Soundbar. It features Dolby Atmos and 3.1.2 Channel integration to provide surround sound for a life-like listening experience. This soundbar is a complete package, offering deep, captivating sounds in a compact build. Moreover, this soundbar has a small and attractive design that will fit well with the aesthetic of your home.
Compact Build
Integrated with 3.1.2 Channel and Dolby Atmos, the LG Eclair QP5 Soundbar offers surround sound for a true-to-life listening experience. With rich, engrossing audio in a compact size, this soundbar is an all-in-one package.
Small Size
Featuring a small and stylish construction, this soundbar is sure to blend in with the aesthetics of your living space.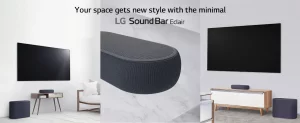 Compatible with LG TV's AI Processor
Sporting an Alpha 9 AI processor, this soundbar renders enhanced sound quality. The TV Sound Mode Share enables the soundbar to leverage the TV's processing power and AI Sound Pro, producing sharp and consistent audio even from various content sources.
Sharp and Powerful Sound with Minimal Vibration
This soundbar's bidirectional subwoofer minimizes vibration at any volume. With reduced distortion and clear sound, you can enjoy music and movies without worrying about disturbing other people.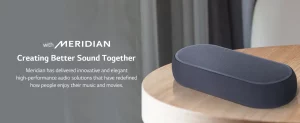 High-quality Audio
Boasting Meridian technology, this soundbar provides sophisticated, high-performance audio that transforms the way people listen to music and watch movies.
Improved AI Sound Pro
Courtesy of its adaptive audio, this soundbar employs an improved algorithm to recognize effects, voices, and frequencies before customizing the sound for each genre to make every scene even more immersive.
Seamless Connectivity
When connected with compatible TVs, this soundbar's HDMI eARC (Enhanced Audio Return Channel) enables smooth transmission of up to 5.1 ch and up to 7.1 ch uncompressed audio as well as HBR (High Bit Rate) audio, including Dolby Atmos and DTS: X.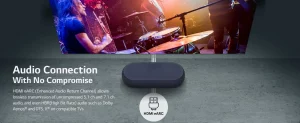 Synchronized Content
With minimal quality or performance compromise, this soundbar provides up to 4K content, including HDR and Dolby Vision, for a completely integrated TV and audio experience.