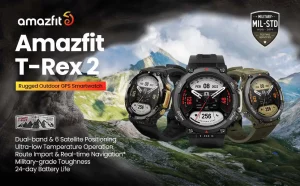 Ready for Adventure
Do you want the ultimate in outdoor performance? This Amazfit T-Rex 2 GPS smartwatch is at the pinnacle of exploration and athleticism; You'll have access to dual-band and multiple global navigation satellite systems(GPS/GLONASS/Beidou/Galileo/QZSS) to track in more challenging environments than GPS alone.
Powerful Zepp OS & 3rd Party App Support
The intuitive Zepp OS makes it easy to find what you're looking for on your Amazfit T-Rex 2 smart watch. Seamless interactions, and a specifically tailored smartwatch UI, enhance the user-experience of this light and low power-consuming OS. You can experience a mini app framework with a rich ecosystem including 10+ mini apps and even the Home Connect and GoPro third-party apps.

Reliable Partner in Journey
The Amazfit T-Rex 2 rugged GPS watch is ultimate in outdoor performance, offering -30°C low temperature operation, and passed 15 Military-Standard Toughness tests. No matter what kind of environment, you can easily manage it.
150+ Sports Modes
The Amazfit T-REX 2 sports watch features more than over 150 sports models, featuring Run, indoor walking, treadmill, outdoor cycling, hiking, skiing, jumping rope, gym, snowboard, golf swing, rowing, mountain climbing, biking, pool swim, triathlon, dance, water workouts, winter workouts, leisure workouts with ongoing support and updates.
10 ATM Waterproof
The Amazfit T-rex 2 offers water-rated up to 100 meters and suitable for swimming, surfing or exploring the mysterious underwater world.

Ultra Long 24-day Battery Life
The Amazfit T-REX 2 smart watch offers the longest outdoor battery life you've ever seen in a Rugged GPS watch, with 500mAh capacity, you can enjoy 50 hours of standard full GPS tracking and 24 days of normal use. T-REX 2 smartwatch is ready for your coming adventure at any time.
Heart Rate Monitoring
The Amazfit T-Rex 2 fitness watch offers 24-hour heart rate monitoring, even while swimming, and is able to provide instant alerts for high heart rate. Heart health is a top priority, and so your Amazfit T-Rex 2 smart watch tracks it at all times, even while swimming, and can also record your heart rate variability (HRV) throughout the day, to monitor your stress level.
Blood Oxygen Measurement
The Amazfit T-Rex 2 smart watch's advanced biosensor is able to automatically monitor your SpO2 level 24 hours a day and it will also send a reminder if it detects your SpO2 level is too low while in a non-sleep state. Alternatively, whenever you're engaged in intense mental or physical activity, or climbing to higher altitudes, initiate a manual SpO2 test for a result in as little as 15 seconds.

Sleep Quality Tracking
Sleep quality is essential to health, and so the Amazfit T-Rex 2 smart watch serves as your personal sleep assistant. The fitness watch can recognize different sleep states – such as the light, deep and REM sleep stages, as well as daytime naps, and monitors any potential breathing problems during your sleep.
Stress Level Tracking
Manage your stress levels and relax with the Amazfit T-Rex 2 fitness watch. The smart watch is able to perform a manual stress level test and also monitor your stress levels all day – with reminders to calm yourself with a built-in breathing exercise if stress levels are too high.