Stay connected with your loved ones or listen to music on the go with the Nothing ear (1) Earbuds. Built with a powerful 11.6 mm driver, these earbuds deliver an immersive experience. And, even when you're waiting at the airport or in any other noisy environment, you can easily tune out the world with these earbuds' Active Noise Cancellation modes. Moreover, integrated with three high-definition microphones and Clear Voice Technology, these earbuds make sure that your voice is clearly heard.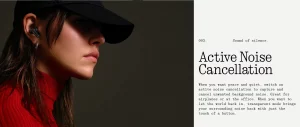 Transparent Design
Encased in a transparent case, the Nothing ear (1) Earbuds exude style. And, the transparent design allows you to keep an eye on your earbuds at all times.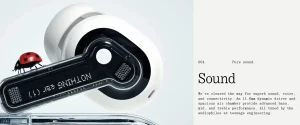 Pure Sound, Precisely Tuned
You can enjoy an immersive audio experience with these earbuds, thanks to their large 11.6 mm dynamic driver. Built with a capacious air chamber, the content expands to deliver high-quality sound. Moreover, the software and hardware components have been carefully picked to ensure remarkable bass, mid, and treble performance. And, thanks to these earbuds' stable and reliable Bluetooth 5.2 connectivity, you won't miss a single note.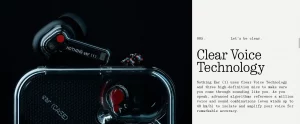 State-of-the-art Noise Cancellation
You can tune out the world and listen to your favourite tracks by using these earbuds' active noise cancellation technology to block out ambient noise. Offering a Light Mode and Maximum Mode, these earbuds allow you to deal with moderate background noise as well as extremely noisy settings, such as airports and offices. And, when you need to turn off noise cancellation and pay attention to the world around you, just turn on Transparency Mode at the press of a button.

Clear Voice Technology
Built with three high-definition microphones and Clear Voice Technology, these earbuds ensure that your loved ones and colleagues can clearly hear your voice. When you're on a call, sophisticated algorithms reference more than a million voice and sound combinations, which even include winds of up to 40 km/h. The algorithms leverage this in-depth analysis and cancel out ambient noise to deliver enhanced voice clarity.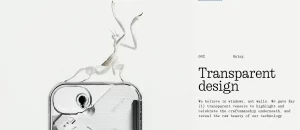 Find My Earbud
If you ever lose your earbuds, don't stress, for you can quickly and effortlessly locate them using Find My Earbud on the ear (1) app. As soon as you activate this feature on the app, your lost earbuds will alert you to their location by emitting a pulsating tone.
Cloud-like
Weighing merely 4.7 g, which is almost as much as a cloud weighs, these earbuds are comfortable to wear all day. Ergonomically designed with pressure-relieving vents and three liquid silicone tips that offer a custom fit, these ultra-lightweight earbuds are snug yet comfy.
Customisation (IOS/Android App)
You can tweak the settings of these earbuds as per your requirements with the help of the ear (1) app and listen to music just the way you want. Be it customising the equalizers or control gestures, this Android/iOS app lets you do it all.
Raw Power and Wireless Charging
You won't run out of juice anytime soon, as these earbuds offer up to 5 hours of listening time, which goes up to 34 hours with the nifty case. You can wirelessly charge this compact power case, which in turn, can quickly charge your earbuds when required. Moreover, these earbuds work well with all Qi chargers for added versatility.
Sweat and Splash Resistant
Sporting a composite mesh design and boasting an IPX4 rating, the Nothing ear (1) Earbuds can withstand sweat as well as splashes of water. So, whether you're sweating it out at the gym or you're enjoying a leisurely stroll during a light shower, you can use these earbuds without any worries.